The life, work, and times of Shankar, father of Indian cartooning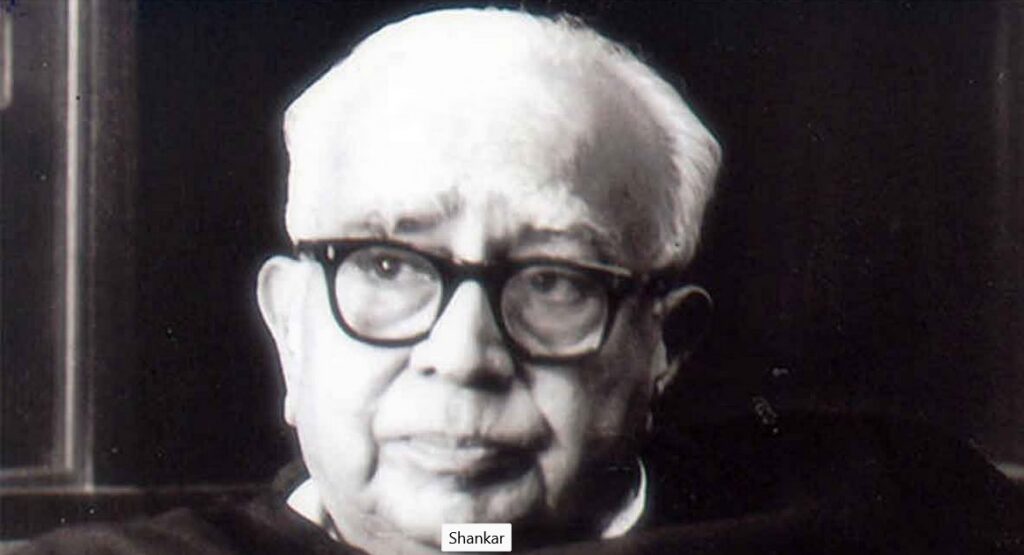 Contents
A weekly by post
Bag of delicacies
Delhi ahoy!
My father lands up
Sundays with Shankar
First Sunday
The 'international' family
Other guests
Shankar's Early Days
Narottam Morarjee
Hindustan Times
Shankar in London
Shankar and the British
Adverse Indian reactions
Rajkumari Amrit Kaur
Gandhi mediates
Gandhi advises
Usman and Srivastava
Another Gandhi smokes out Shankar
The Indian News Chronicle
Shankar's Weekly
Don't spare me Shankar
The first issue
Those who drew#naths-view
Those who wrote
Shankar and Nehru
Nehru on Shankar
Manikonda Chalapathi Rau
Shankar and the Emergency
Nath's view
Shankar's farewell letter
Indira's letter
Conclusion
Shankar and Deshmukh
Cartoon on Deshmukh
Deshmukh expels Shankar's daughter
Shankar and banking
Shankar and children
The Shankar Gharana
Kutty on Shankar
Abu on Shankar
Vijayan on Shankar
Thankam Shankara Pillai
Last days
Shankar's Legacy
Acknowledgement
References
Annexe – Sudheer Nath's biography of Shankar
A weekly by post
Shankar's Weekly landed with unfailing regularity every Monday or Tuesday in our mailbox for as long as I can remember. Shankar's Weekly introduced me to political cartooning. It was the most successful Indian version of Punch and perhaps the only successful Indian publication devoted to humour. Its numerous issues were always lying around at home. My early lessons in Indian politics and post-independence history also came from it.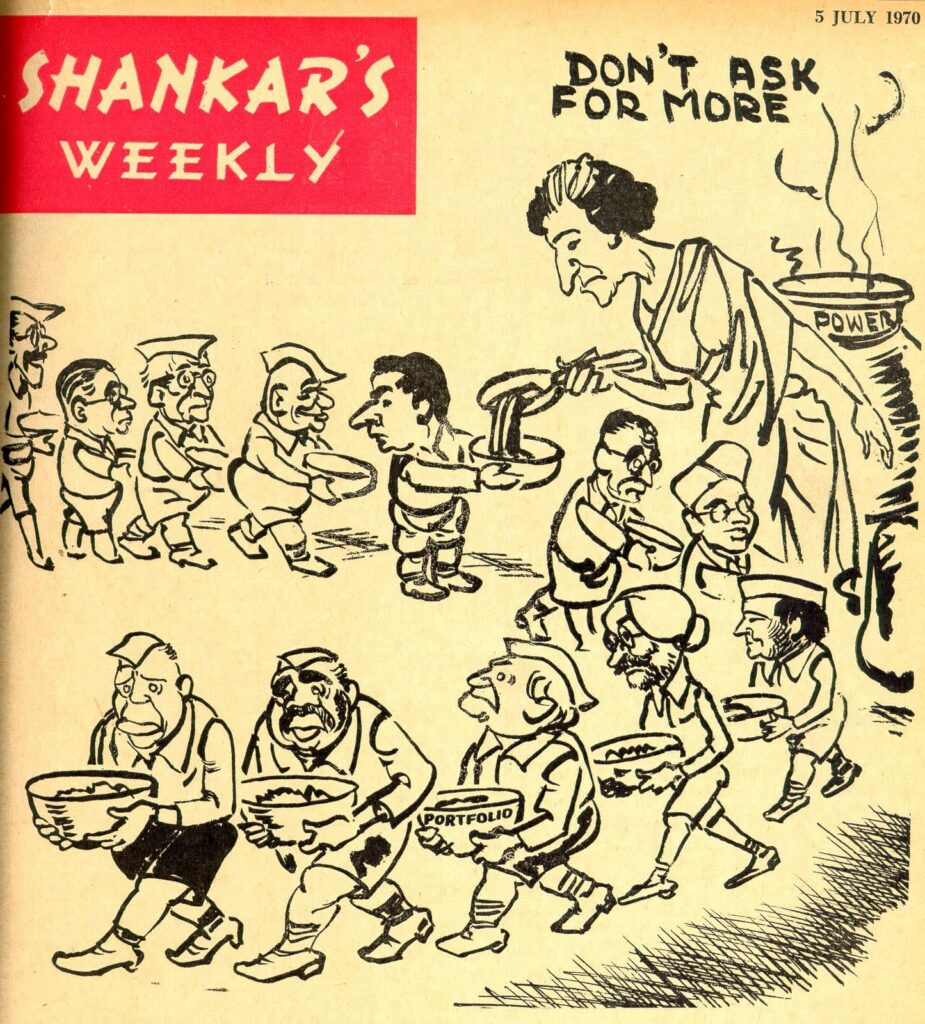 I remember devouring the 24 pages (later 48) of Shankar's Weekly from cover to cover from my early childhood. The syndicated Feiffer cartoons on the last page, mostly taking down Richard Nixon, were an excellent place to start. Then I would work backwards, to book reviews, music appreciation, film write-ups, and the numerous satirical write-ups. There would also be innumerable cartoons from first-time amateur cartoonists from across the country, perhaps with an eye on cartooning as a career. I kept the juicy middle pages for the end. This was a collage of pocket cartoons by various cartoonists, including Shankar himself, with the two donkeys portraying Delhi's social elite, Bada Saab and the much taller Memsaab.
Bag of delicacies
On a seemingly unrelated note, whenever my father flew to Delhi, a Sunday preceding or following, there was hectic activity at home. Many edible items not readily available in Delhi then were being packed. Tapioca, breadfruit, and plantain topped the list. Sometimes kaachil and koorka, seasonal root vegetables. It took me some years to connect the above two. The delicacies were for the man behind Shankar's Weekly. He was Shankarapillaichettan to my father and many others. Officially, his name was Keshava Pillai Shankara Pillai or just K.S. Pillai. He was Shankar to the world, the father of Indian cartooning.
Delhi ahoy!
My turn came in July 1981. I was going to Delhi to join the Delhi School of Economics for my M.A. Half my luggage, in the second class coach of then K.K. Express, short for Kerala-Karnataka Express, was a massive bag of goodies. A delay by a few hours in the official 48-hour journey was expected. Late Govindan Unny, then heading Agence France Presse operations in India, who was my official local guardian, picked me up. After freshening up at their Press Enclave residence, we headed to Shankar's government-allotted bungalow at No 9, Purana Qila Road the same evening to delivered the goodies while they were still fresh. Shankar used to retire by 7 pm. But, he came down to meet us. At the end of the meeting, a visibly pleased Shankar decreed, looking at me, "You will join us every Sunday for lunch!" I nodded in agreement.
After that, I got busy with my admission. Though selected for both JNU and Delhi School, I joined the former. Taking Shankar's invitation as a show of courtesy and having another dozen addresses to visit on my father's list, I gave PQ Road a miss for a few months.
My father lands up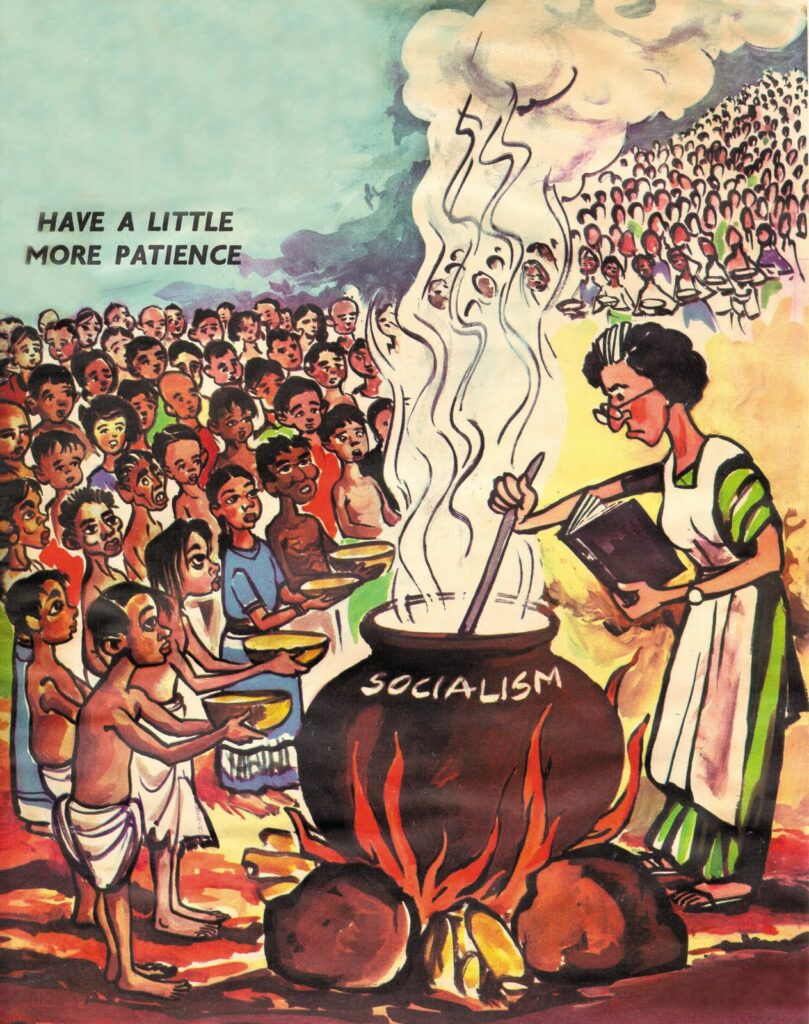 My father considered Shankar as one of four Shankaras from Kerala who he admired or revered. Was he serious? I would never know. The first was, of course, Shankaracharya. The second was the now largely forgotten Sir Chettur Sankaran Nair, the only Malayali to become the President of the Indian National Congress. He later authored a stinging critique of Gandhi in the aftermath of Khilafat and the Moplah Riots of 1921/22 (Gandhi and Anarchy, 1922). The fourth was E.M. Sankaran Namboodiripad, more for his sterling intellect than politics.
My father told me that Shankar was the first person to be honoured with all three Padma awards: Padma Shri (1956), Padma Bhushan (1966), and Padma Vibhushan (1976). But, that was not the reason why he was all deference in Shankar's presence, the only time I ever saw him be a child before anyone. His father and Shankar were classmates at school and college.
A few months later, my father came to Delhi for a meeting. Among other places, we landed up at Shankar's residence for a Sunday lunch, my father armed with a package of goodies. Shankar made my father sit next to him, and as was his wont with people he loved, he slapped my father hard on the back, calling him eda patti (you dog), thendi (beggar) and so on. He complained that I had completely ignored his invitation to join them every Sunday for lunch. He said that he could not abuse me because I was young. And after that, his curses advanced into more choice Malayalam epithets, with liberal use of Malayalam alphabets ka and ma.
Shankar turned to me after that and relaxed his condition. He now decreed that I will join him one Sunday every month.
Sundays with Shankar
First Sunday
The following month, I presented myself at PQ Road, at around 11 am. Shankar's wife, Thankam Shankara Pillai, Chechi or Chettathi, to friends and Delhi Malayalis, warmly welcomed me. Grace and dignity personified, she was the warmest hostess I ever met. My father also called her Chechi. For want of anything better, let me also use the same though she was older than my grandmother by a few years.
If I remember correctly, Shankar attended office on most Sundays and would join for lunch by around 12.30 pm. He headed the lunch table as the host, and I would be seated to his left, usually earmarked for the second important guest. To his right, traditionally reserved for the chief guest, would invariably be M. Chalapathi Rau, veteran journalist (more on him below). Shankar was quick to clarify, pointing to Chalapathi Rau, "he is a permanent guest; he has been our guest every Sunday for 40 years." Then he added, pointing to me, "you are the chief guest."
That became a monthly routine as long as I was in Delhi until 1983. Two or, at times, three DTC buses took me there. Sometimes, I prefixed or suffixed my visit with a film at the Shakuntalam theatre of Pragati Maidan, now defunct, but which had opened only earlier that year. It was just across the road from Shankar's residence. This also meant occasionally dropping by on a weekday.
The 'international' family
Over a period, I met almost everyone in Shankar's extended family and many from his circle of friends. Shankar called it an 'international' family. Only his eldest daughter, Santha, married a Malayali. Srinivasan was from the Nilambur kovilakam (loosely translated as a princely manor). He was, I think, in the Central Secretariat Service. Handsome, rose-tinted, and of perfect manners, he never made a mistake in his life, said my father (he was probably quoting Shankar himself).
The second daughter, Yamuna, was with the Children's Book Trust and remained unmarried. I never met the third daughter, Leela, or her Chilean husband, Carlos. The elder son, Sukumaran, married a Czech, Ishka. I remember meeting him and his two tall and handsome sons many times. Also staying with the Shankars was a relative, a widower, whose name I forget, and his daughter.
The second son and youngest, Ravi and his Gujarati wife, Alka, were the ones I saw the most of. They kept me engaged in conversations with their little daughter, Sonali, dropping by with sweet enquiries.
Other guests
Almost every time my father landed up, there was an extended bridge session before lunch. Frequent guests included the suave G.B. Pai, Supreme Court lawyer from the legal firm Menon & Pai and his elegant wife, both of whom played bridge. Over the years, I have forgotten the names of others. One gentleman I met perhaps at Shankar's 80th birthday dinner told me, on knowing that I was in JNU, how he put his daughter for a five year M.A. language programme there. That saved him the trouble of worrying about her education for the next five years.
Shankar was prone to overbid, my father thought. As Shankar's partner, my father let the bidding pass on one occasion. This resulted in an underbid in what was a sure grand slam, much to the annoyance of Shankar.
As one of the rare exceptions, who left JNU soon after completing MA (there were no admissions that year), my subsequent visits to PQ Road became an annual or biennial affair. My last visit was sometime in late 1988 or 1989.
Shankar's Early Days
Born in Kayamkulam on 31 July 1902, in the prosperous Nair tarawad of Illikulam, Shankar exhibited his prowess in cartooning early in life. The first known victim was his headmaster. Standing in for another teacher, he had given the students a few problems to solve, and fell asleep. The picture that Shankar drew was the subject of much joy and laughter during the break. That resulted in Shankar being sent home. On top of that, the headmaster took the picture to show Shankar's uncle. The uncle and the aunts appreciated the drawing and were surprised that Shankar had such an inherent talent. When Shankar joined the Government High School in nearby Mavelikkara (not Anglo Vernacular School as one biographer claims), his uncle arranged for Shankar to attend the Raja Ravi Varma School of Painting (now a College of Fine Arts) also in Mavelikkara.
Shankar's fine arts education continued at the College of Fine Arts in Trivandrum, which he frequented while being a student at the Maharajah's College (now University College), which he joined in 1925. By then, he had started sending his drawings to various publications. A visit to his uncle in Bombay and return via Madras, where he purchased a cycle, would widen his outlook and open new vistas. While cycling around Trivandrum, he spotted the ten-year-old Thankam, daughter of a retired subedar, and developed a liking for her.
Narottam Morarjee
Legal education in Bombay remained incomplete. Applying for a clerical job, Shankar wrote the wrong box number, and Narottam Morarjee (1877-1929), the shipping and textile magnate, interviewed him for the post of private secretary. Not knowing shorthand and typing, he was unqualified. But, his experience in scouting while studying in Trivandrum impressed Morarjee, then District Commissioner of Bombay Scouts. Shankar worked for Morarjee till he died in 1929 and later with the family, all the while sending his cartoons to various publications, including for B.G. Horniman. A decade earlier, Horniman had famously published a report on the Jallianwala Bagh massacre defying a government ban resulting in his deportment.
Horniman asked Shankar to draw for his new Weekly Herald. This was another turning point. With this, Shankar was drawing for three publications. Writing of Horniman, after his death in 1948, Shankar wrote:
"Benjamin Guy Horniman was British by birth, but for about 40 years, he was the Bayard of Indian journalism. . . He was our greatest tradition or banner of freedom and our school of journalism. His epitaph should be 'England's greatest and perhaps the only real gift to India'."
During this period, Shankar was a colleague of Bal Thackeray, also a cartoonist in his early years. He had also come to know Pothan Joseph, who started with Horniman at the Bombay Chronicle a decade earlier. Pothan Joseph later moved to Delhi to edit the Hindustan Times. But, Shankar's chance meeting with Pothan Joseph once again in a Bombay bus was another turning point. He invited Shankar to join him at the Hindustan Times, which he did in 1934. By then, he had married Thankam, his sweetheart, and they were living in Chowpatty.
Pothan Joseph
Pothan Joseph, about ten years senior to Shankar, was the younger brother of Barrister George Joseph, a freedom fighter and close associate of Gandhi. The elder brother edited Motilal Nehru's Independent, and Gandhi's Young India, before organising mill workers in Madurai.
Pothen Joseph, over his lifetime, started or edited around 25 newspapers that included Hindustan Times, Indian Express, Deccan Herald, and Dawn. He was mostly known for his column, Over a Cup of Tea, the longest-running column by an Indian journalist for over five decades. PJ's life and contributions deserve a separate post.
Hindustan Times
Hindustan Times was acquired by the Birlas, who was close to Gandhi. That Devdas Gandhi, the Mahatma's son, became an editor was perhaps a coincidence. Shankar was by then a nationally known figure while Hindustan Times was still in relative infancy. After Shankar left Hindustan Times about 12 years later, Mahatma Gandhi asked Shankar whether Hindustan Times developed him or Shankar helped Hindustan Times grow.
Shankar in London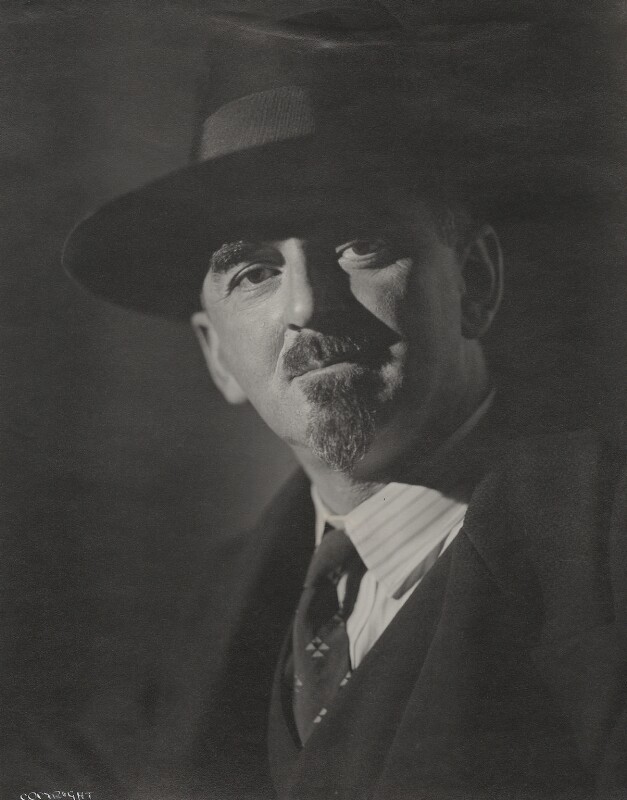 During 1938/39, Shankar went to London on a sabbatical, where he continued to get his salary and sent cartoons back to India. This was an unusual arrangement also in recognition of Shankar's contribution to the growth of the Hindustan Times. The Tatas partly funded the visit. This visit helped him make up for the lack of formal training in art.
After vacating his Gole Market flat in Delhi and leaving Thankam and family in Trivandrum, Shankar set sail for London. Shankar learnt commercial art and design for four months at the Reimann School of Art and Design on Regent Street (later destroyed in the World War II bombing). Later he studied caricature at the London Polytechnic, on Regent Street, now the University of Westminster. He also studied at the Central Saint Martins, University of the Arts, London.
Apart from roaming around the streets of London caricaturing people (as he used to do in Delhi, walking around studying faces on Connaught Place), Shankar found time to meet people from the world of art. Most important was a meeting with the great Sir David Low (see here and here), whose style Shankar and Laxman followed. He also became a close friend of Leslie Grimes, artist and cartoonist, who succeeded David Low at The Star in 1927. Apart from other cities in England, Shankar also travelled extensively in Europe, including Paris.
Shankar and the British
Even though most of Shankar's cartoons attacked the British, they won the appreciation of at least three Viceroys. When a call came from Lord Willingdon's office, Shankar's colleagues thought he would receive a dressing down. It was with trepidation that Shankar went to the Viceroy's residence. To his surprise, the Viceroy appreciated his cartoon and invited him for tea, where Lady Willingdon also joined. Lady Willingdon complained that her husband's nose was too long. Shankar explained that it was the cartoonist's art to exaggerate certain features.
When Shankar drew a front-page cartoon depicting Lord Linlithgow, Willingdon's successor, as Kali, Devdas Gandhi feared that the paper might have to be closed. Therefore, when a call came at 11 am from the Viceroy's military secretary, Shankar feared the worst. By the time he went on the phone, the person at the other end was the Viceroy himself. Linlithgow appreciated Shankar's great cartoon and asked for the autographed original.
Sir Stafford Cripps liked best a cartoon of him hiding underneath a bench and overhearing the confidential talks between Azad and others. He asked Lord Wavell, then Viceroy, to get a copy of the original from Shankar. Shankar presented Cripps with a bound volume of fourteen original "Cripps cartoons." Lord Wavell also received almost a hundred cartoons by Shankar. Wavell finally wrote to Shankar, "All is well that ends well."
Adverse Indian reactions
Rajkumari Amrit Kaur
A particularly virulent critic of Shankar was Rajkumari Amrit Kaur. Daughter of Raja Harnam Singh of Kapurthala, a converted Christian and the first President of the All India Conference of Indian Christians, she wrote in 1937 to Gandhi complaining against Shankar for one cartoon.
The offending cartoon featured Sir James Grigg, Finance Member, D.C. Nixon, the Finance Secretary, and Sir James Taylor, the Reserve Bank of India Governor, all three depicted as the Holy Trinity with Sri Prakasa standing with folded hands praying. The cartoon was a comment on Sri Prakasa's statement in the Assembly that the Finance Member was the God of capitalism and imperialism. Sri Prakasa was shown as praying: "To the glory of our Lord J. C., for the love of Grigg and the fellowship of Holy Taylor – Amen."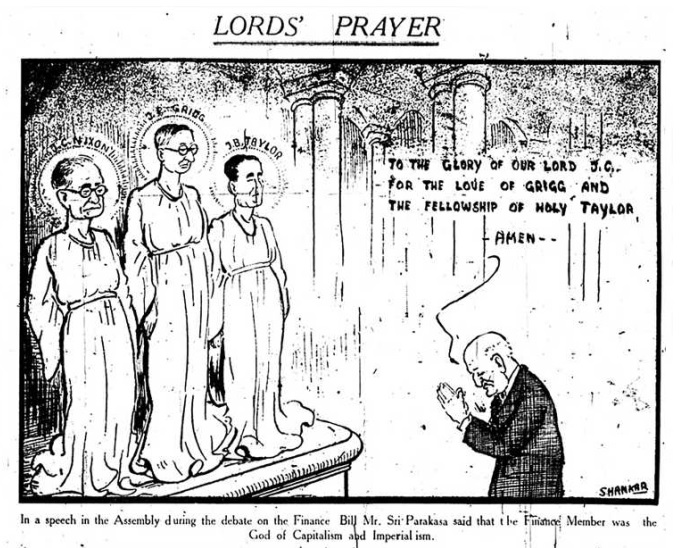 She took up the matter with Devdas Gandhi and later wrote to his father complaining against the caricature of the Biblical verse. She and the Mahatma had a close relationship; he calling her an "idiot" or "rebel," and she called him a "tyrant." The senior Gandhi replied:
"…when I saw the cartoon I felt what you felt. The joke was quite innocent. Only a suspicious mind could find a sinister purpose behind the cartoon. But the suspicion is there and has to be taken account of. Therefore you were wholly right in drawing Devdas's attention to the cartoon."
We do not know what position Devdas Gandhi took in the matter.
Gandhi mediates
Rajkumari Amrit Kaur's issues with Shankar did not end there. A convocation function at the Lady Irwin College, to which Shankar was invited, inspired him to draw a cartoon with a caption: "Thinking of opening a Lipstick Service Station at Connaught Place." As the cartoon below shows, lipstick remained one of Shankar's pet dislikes.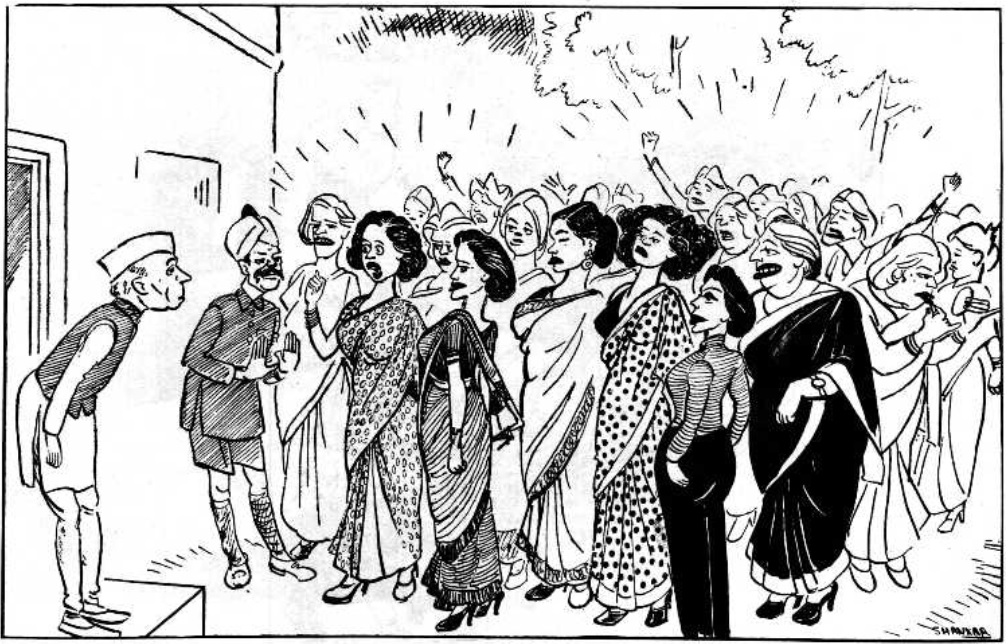 The Rajkumari, who was chair of the College, initially complained to Sarojini Naidu. Not receiving any favourable response, she went to Gandhi, who called both for a meeting. Shankar's daughter-in-law described the scene thus: "They all had blindly applied lipstick across their mouth, without caring what their complexion was – whether black, white, pink, yellow, brown – they all had applied a dark lipstick. Shankar was irritated at the graduates; Amrit Kaur felt the same way about Shankar." (Shankar, 1984) Gandhi had another look at the cartoon and laughed, saying 'You are acquitted, Shankar.'
Gandhi advises
Whether Muhammad Ali Jinnah ever complained to Shankar for his cartoons is not known. But, Gandhi once took up cudgels on behalf of Jinnah. During the last week of September 1939, Shankar had drawn two cartoons featuring Jinnah. According to Khanduri (2014), it is not clear which provoked Gandhi. But, she suggested that it could be the one below.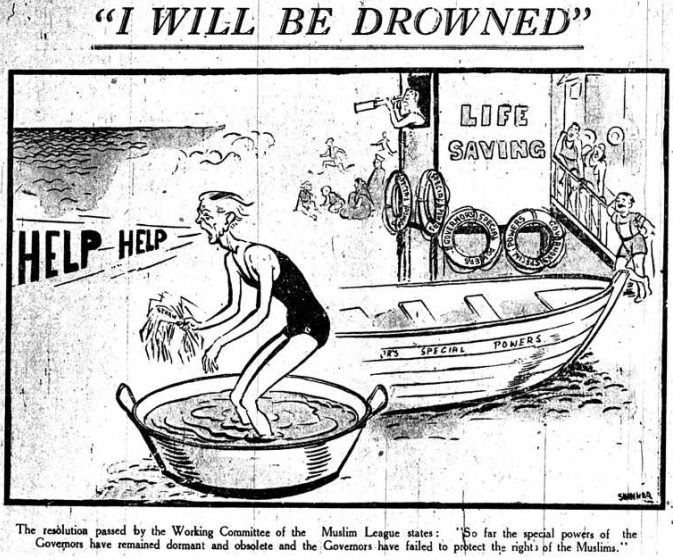 Shankar drew the cartoon in the context of a Muslim League Working Committee resolution which stated that "So far, the special powers of the governors have remained dormant and obsolete and the governors have failed to protect the rights of the Muslims." Shankar soon received a postcard from Gandhi written while on a train from Wardha. Gandhi's advice on the ethics of cartooning went like this:
"Your cartoon on Mr Jinnah was in bad taste and contrary to fact. You fulfil merely the first test of a cartoonist. Your cartoons are good as works of art. But if they do not speak accurately and cannot joke without offending you will not rise high in your profession. Your study of events should show that you have an accurate knowledge of them. Above all, you should never be vulgar. Your ridicule should never bite."
That was perhaps not an isolated event of Gandhi showing sensitivity to the feelings of Jinnah. It is not known whether Jinnah reciprocated with equal sensitivity to the cartoons drawn by Ahmed (who had become a Christian after marrying one) for his Dawn. Ahmed would later move to Hindustan Times and draw against the Muslim League.
Usman and Srivastava
The reactions from many Indians were different. When the bulky Sir Muhammad Usman, member of the Viceroy's Executive Council and Defence Council, was shown as a giant balloon, with the caption "The Defence of India," he complained to the Viceroy demanding that Shankar be arrested. The Viceroy laughed it off, did nothing, and later narrated the story to Shankar.
When new officials or politicians came to Delhi, it was common for Shankar to meet them. One such was Sir Jwala Prasad Srivastava, another Viceroy's Executive Council member. He refused to meet Shankar or cancelled his appointments at the last minute on three occasions. Finally, when Shankar was called to his residence, he found a fully naked Srivastava waiting to receive him, his body well-oiled. Srivastava asked Shankar whether he was offended to see him like that. Shankar said yes. To this, Srivastava said he could draw him like that. Shankar did precisely that with the caption, "I am fully dressed." Srivastava complained to the editor and later to the Viceroy to no avail. After that, Shankar always drew Srivastava without clothes for the next three years. Finally, Srivastava had to bring Pothan Joseph from Madras, at his expense, to get Shankar to stop drawing him naked.
Another Gandhi smokes out Shankar
Shankar's experience with the junior Gandhi was different. As is well known, Devdas Gandhi married Lakshmi, the elder daughter of C. Rajagopalachari. Shankar's caricatures of the future Indian Governor-General and founder of the Swatantra Party did not go down well with either the father or the daughter, who complained to her husband. According to Kutty, in Khanduri (2014), Devdas Gandhi kept pulling up Shankar.
Prem Shankar Jha, in his history of the Hindustan Times, attributed Shankar's departure to a change in culture brought in by Durga Das, the manager of Hindustan Times, who we encountered in my earlier post on Indian Presidents.
Devdas Gandhi and Durga Das adopted a devious route. They brought in Ahmed from Dawn as a second cartoonist to support Shankar, a journalistic coup of the day. According to Nath (2021), they seated Ahmed in Shankar's room, which the latter had held as his fiefdom barred to outsiders while working. That move settled the matter.
Khanduri (2014) summed up the episode as follows:
"The various circumstances surrounding Shankar's resignation from the Hindustan Times suggest that by 1947, the press in India began to experience the strains of political affiliations made more complex by the interweaving of kinship among the industry, press barons, and politicians. In India, industrialists owned and financed the press, an unsurprising fact, since industrialists financed the Indian nationalist movement. This confluence of interests – political, industrial, and journalistic – marked the "culture" of each leading newspaper and shaped the movement of editors and cartoonists from one newspaper to the other."

Khanduri (2014), page 107.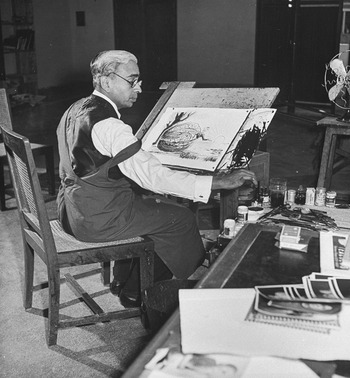 The Indian News Chronicle
Around the same time, Ramkrishna Dalmia had purchased Bennett Coleman and Co., which published Times of India and an evening paper, Indian Call. He wanted to start a new morning paper and bring Shankar as its editor. The Indian News Chronicle began publication in April 1947. Shankar poached some of the best names in Indian journalism, including Hindustan Times, enticing them with much higher pay. This included Edathatta Narayanan as News Editor.
A frequent contributor to the Chronicle was one of Dalmia's six wives. She wrote on cow protection a field where she was active. She also used to interfere in the paper's news content. The opposition to her continuing articles reached a point where Narayanan, in September 1947, refused to publish one piece and returned it. She took up the matter with Dalmia, who in turn took it up with Shankar. Shankar stood by Narayanan. Soon after that, Dalmia dismissed Shankar as editor. Following this, Narayanan and many others also quit. The newspaper folded up soon.
As it later turned out, in what was perhaps the first significant scandal post-independence, the Vivian Bose Commission established that Dalmia diverted funds from his banking and insurance ventures to purchase Bennett Coleman and Co. He eventually spent a few years in Tihar jail.
Shankar's Weekly
Don't spare me, Shankar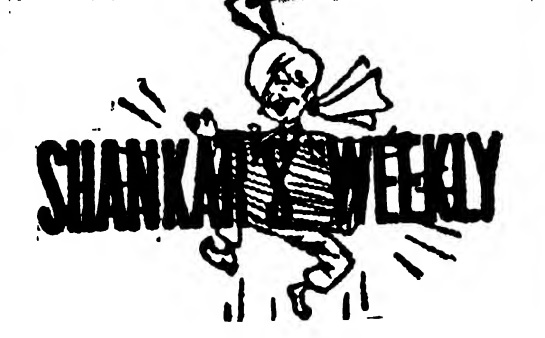 The idea of an Indian version of Punch came from Pothan Joseph. Shankar's Weekly started publication in May 1948, within a year of independence. Jawaharlal Nehru released the first issue. On this occasion, Nehru famously said, "Don't spare me, Shankar."
The first issue
On the first issue, which I have not seen, Siegel (1987) wrote as follows: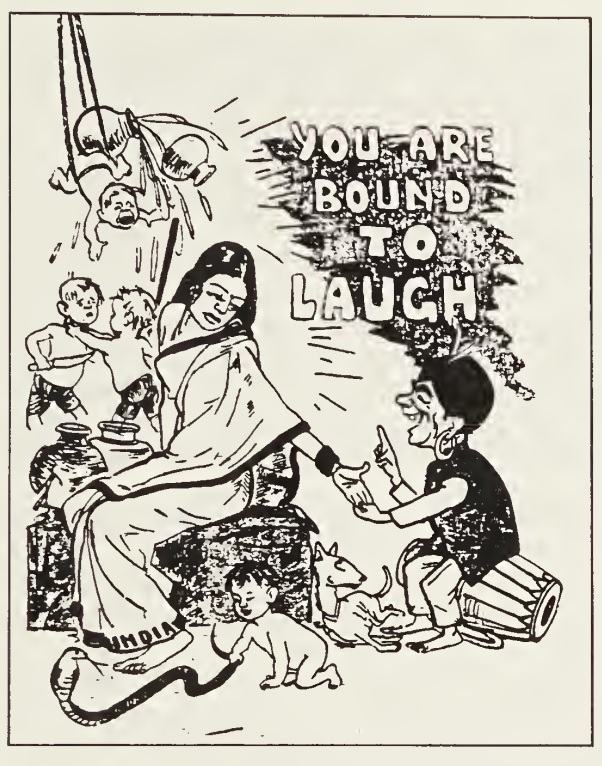 "In the first issue of Shankar's Weekly, the only humour magazine to ever enjoy any success in India, there was a drawing of India personified as a distraught woman surrounded by screaming, bickering children (fig. 33). At her side, a puckish Shankar was trying to give laughter's sweet solace. "Shankar's Weekly makes its appearance [in May of 1948] with a modest claim: it will help you laugh. Other peoples of the earth have been laughing heartily, even in the midst of their struggles, but we seem to be a nation in perpetual mourning.. . .
"Ours is a humourless generation, a procession of colourless puppets. Years ago it seems, we lost our gift of laughter and gained an unhealthy seriousness. At best we simper and grin, yawn or giggle, we seem to think it is vulgar to laugh and we never laugh at ourselves. … We must laugh or we must die. . . . We have become a nation ashamed to laugh and afraid of laughing."
Those who drew
Almost two generations of cartoonists cut their teeth with Shankar's Weekly. This included Abu Abraham, Ranga, Sudhir Dhar, O.V. Vijayan, P.K. Sankarankutty Nair aka Kutty, Yesudasan, Samuel, and Kevy or Kerala Varma. Among others who have drawn for Shankar's Weekly at some time included R.K. Laxman, Bal Thackeray, Rajinder Puri, Mickey Patel, Bireshwar, Prakash Ghosh, B.G. Varma, Narendra, Vishnu, and Reboti Bhushan. Moreover, many amateur writers also drew for Shankar, some more often to come to the notice of Shankar, who would offer them advice on drawing and would later on become well-known cartoonists. One such was E.P. Unny. Select cartoons of Shankar that appeared in Shankar's weekly can be accessed here.
Those who wrote
Among those who regularly wrote for Shankar's Weekly were M Chalapathi Rau, Edattatt Narayan of Link and Patriot, P Vishwanath of Patriot, Punnen Abraham and C.P. Ramachandran of Hindustan Times, and Amita Malik, film critic.
Shankar and Nehru
Was the Shankar-Nehru camaraderie good for cartooning or politics, or both, or for neither? I don't have a clear answer. While Shankar did cartoon and lampoon Nehru a lot, it is clear that he did so within limits. He would never have gone to the extent of a Vijayan or a Rajinder Puri who could be vicious to the other extreme. Nevertheless, some of the lasting images of Nehru in cartoons came from Shankar's brush. Two are particularly noteworthy and frequently reproduced.
Two cartoons
One such is in the context of Nehru stating that India was ready to face the Chinese challenge. At the same time, he also warned against any hasty action. The cartoon depicted a worried and chastened Nehru pulling back an agitated and war-ready Nehru. This later came on the cover of a book of Nehru cartoons titled "Don't spare me, Shankar."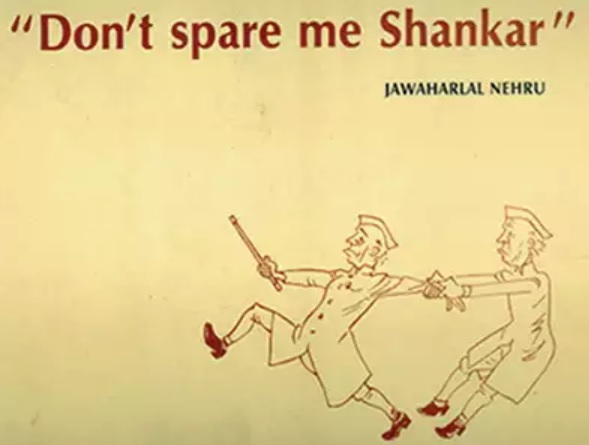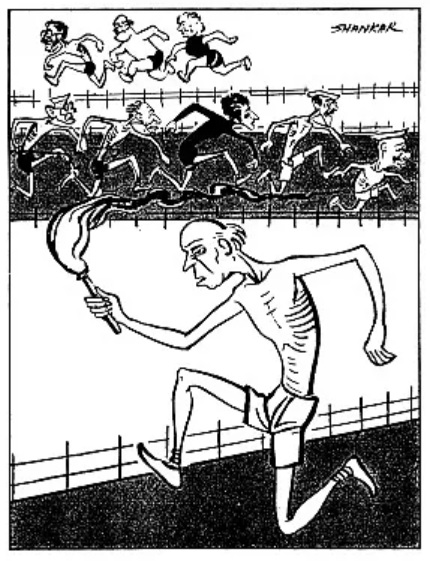 The second came about ten days before Nehru. Shankar had called on Nehru. Those were days when rumours were rife on who would succeed, Nehru. Welles Hangen published his famous book in the previous year, which became a popular catchphrase, "After Nehru, Who?" (Rupert Hart Davis, London, 1963). The cartoon seemed to indicate Shankar's options:
In what would be prophetic, far behind Nehru are Lal Bahadur Shastri, Gulzarilal Nanda, Indira Gandhi, Krishna Menon, and Morarji Desai, before three others. The only exception would be Krishna Menon, who passed away when Indira Gandhi was still the Prime Minister.
In the far distance were Ashok Mehta, Nijalingappa, and Vijayalakshmi Pandit, all of whom of course stood no chance.
Nehru centenary
In 1989, on the occasion of the Nehru centenary, there was a national exhibition of Nehru cartoons by Shankar across cities. Khanduri (2014) recorded, among others, a comment by one Vairavan from Trivandrum giving a crude expansion of Nehru as "National-Exploitation-Horrible-Ruthless-Unimaginable," adding "which would be understood by the whole nation tomorrow after the exit of Nehru dynasty rule. Which is as sure as the sun rising in the East tomorrow."
Nehru on Shankar
Nehru had this to say on Shankar on the occasion of the inauguration of Shankar's Weekly:
"… a true cartoonist is not just a maker of fun, but one who sees the inner significance of an event and by a few master strokes impresses it on others. Shankar has that rare gift, rarer in India than elsewhere, and without the least bit of malice or ill-will, he points out, with an artist's skill, the weaknesses and foibles of those who display themselves on the public stage. That is a service to all of us for which we should be grateful. For we are apt to grow pompous and self-centred, and it is good to have the veil of our conceit torn occasionally. And so I gladly pay my tribute to Shankar, and I hope that he will continue to enlighten us and amuse us and pull us down a peg or two."

Quoted in Shankar's Weekly Commemorative Volume, 1975
Manikonda Chalapathi Rau
Chalapathi Rau, as I wrote above, was a 'permanent guest' for 40 years, and I, as Shankar assured, the 'chief guest.' That was the case on most Sundays. Chalapathi Rau always came suited with a hat and a walking stick. So did Shankar, as I saw him return from his office.
Chalapathi Rau hardly spoke to me. He was a man of few words. At the same time, I could sense him closely and silently scrutinising me, making me feel uncomfortable. I later realised that he was a member of my University's court. The veteran journalist must have been assessing from the corner of his eye what specimens the university named after his mentor was releasing into the wide world outside.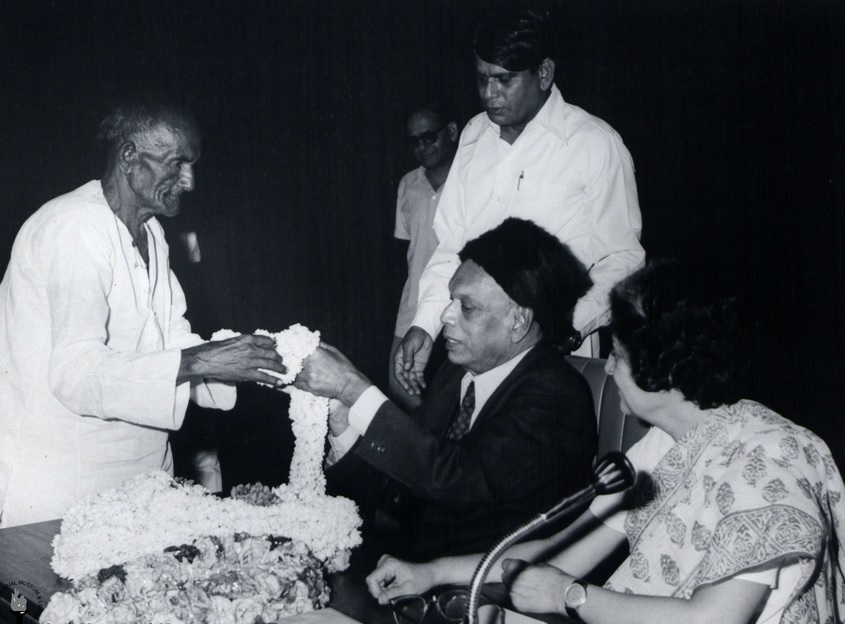 Chalapathi Rau was the editor of the National Herald for over three decades, starting in 1946. In January 1983, after Hegde and Rama Rao became Chief Ministers of Karnataka and Andhra Pradesh, I remember Chalapathi Rau and Shankar chuckling over the news, celebrating the defeat of the Congress in shared and suppressed content. This fleeting expression of their thoughts made me realise that the two had hardly any regard for Nehru's descendants as they had for the first Prime Minister.
Two months later, in March 1983, while on an evening walk, Chalapathi Rau felt uncomfortable and stopped by at a wayside shop for a cup of tea. After having the tea, Chalapathi Rau soon collapsed. Also known as M.C. or Magnus, maybe pennames under which he wrote, there is not much information on Chalapathi Rau in the public domain apart from the books he authored or edited. This is perhaps because he was a bachelor and had hardly any relative close to him until, as Chechi said, after his death.
Shankar and the Emergency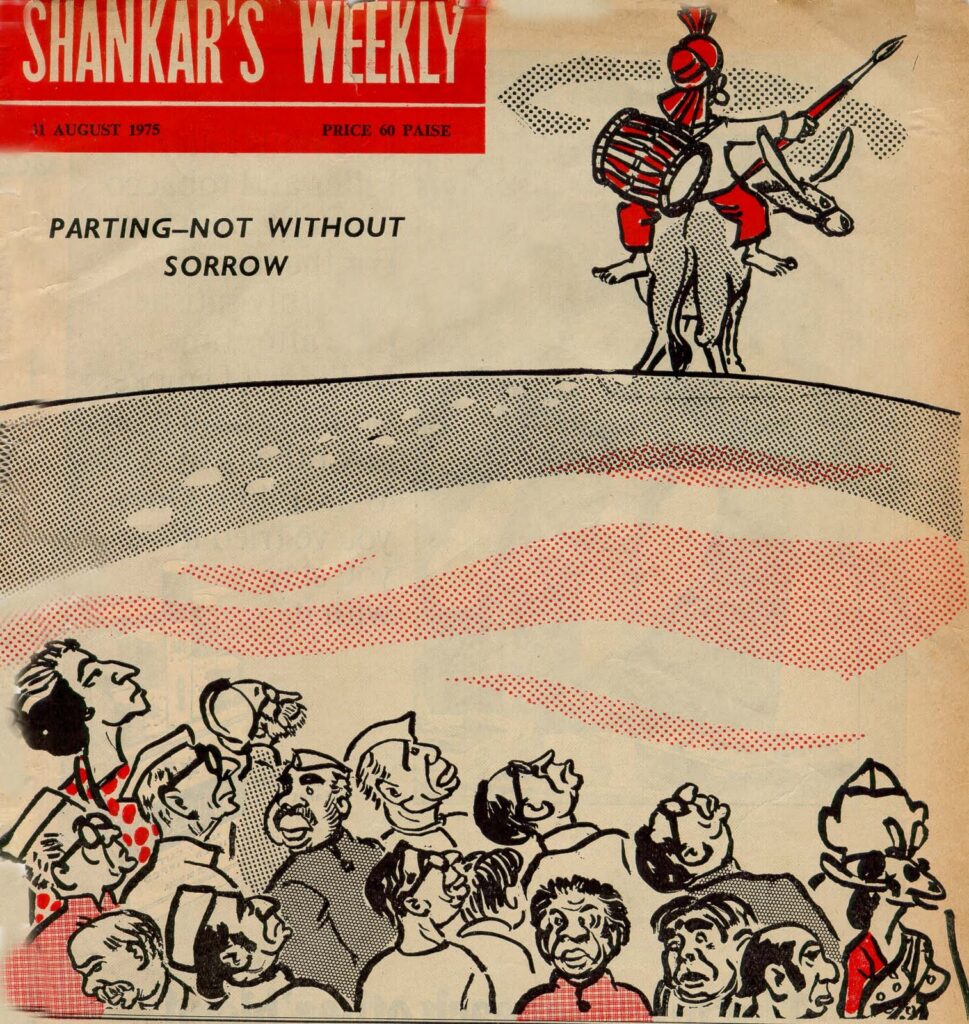 I am skipping any lengthy discussion on Shankar's cartooning of Indira Gandhi's tenure. Let me go straight to the Emergency. Like other publications, Shankar's Weekly also received an advisory from the government. Even though there was no summons from the censors, Shankar told his colleague Ramakrishnan (a grandson of the legendary Swadeshabhimani) with his hands shivering in anger not to take any of his cartoons to any of the uneducated fellows sitting there (in government) (Nath, 2021).
Shankar decided to close down Shankar's Weekly, India's Punch, soon after Emergency was declared in June 1975. He announced this in the issue of 27 July 1975. The last issue was dated 31 August 1975.
Shankar would not budge under any pressure from friends. A year or two later, a commemorative volume bringing together the best of Shankar's Weekly was brought out. This remains one of my prized possessions just as a similar issue of Punch is.
Nath's view
Nath quotes Ramakrishnan as stating that Shankar's Weekly did not face any hindrance from the censors during the Emergency. How could it hinder when the Weekly did not last even ten per cent of the Emergency's 21 months?
Nath goes out of the way to provide other reasons, nay excuses for the closure of Shankar's Weekly. This includes the death of one Punnen Abraham/Joseph, who was helping Shankar run the Weekly. But, Punnen had died in 1972. A second reason is the drying up of contributions in cartoons and articles. But, if a random issue of 1974 were to be taken, the number of pages had doubled to 48 in 1974 compared to 24 in 1969.
A third argument is that advertisements had dried up as Shankar was not as close to Indira as he was to her father while he states elsewhere that she used to consult him almost every day. But, the issues of 1974 show that they are full of advertisements. If it dried up thereafter, what else to blame but the Emergency. A fourth argument is based on what censor officials of the period, incidentally Malayalis, told Nath that there was no pressure from their end. He quotes previous censors and censor officials to say that the closing down of Shankar's Weekly was not due to the Emergency.
Some of these arguments border on the ridiculous, not expected from another cartoonist, though two generations removed. This is dealt with in greater detail in a separate review of Nath's book in Malayalam, which contains quite a few errors though excellent in many other respects. I have added this as an Annexe at the end of this post.
Shankar's farewell letter
A clue can be found in Shankar's letter published in an issue of 27 July 1975:
"Running it was an uphill task – without any capital, without adequate equipment or staff. It was in a way a challenge, but a challenge willingly undertaken. Although it has been a difficult task, sometimes back-breaking, I have been running the Weekly without a break. But this is too much for one man. It is rather heartbreaking that I have to stop the publication of "Shankar's Weekly" from 1st September 1975."
"… It is not for me to say whether "Shankar's Weekly' has contributed anything significant to Indian journalism. This much I can say. What it wanted to express in cartoon and comment was done without any inhibition. Though small and without adequate resources, the Weekly always remained an independent journal."
The last two sentences from the extract contain the message. In my view, it was Shankar's fear of inability to continue the publication along those lines that forced the closure. Want of editorial support should not have been a hindrance as Shankar had nurtured his own 'Gharana' of cartoonists, any one of whom could have taken over the mantle.
Indira's letter
Indira Gandhi's letter of 26 July 1975 to Shankar after reading about the imminent closure of Shankar's Weekly does not request to continue the weekly. The six sentence letter went like this:
"Dear Shankar,
I learnt a few days ago about your decision to stop Shankar's Weekly and I have just seen the farewell note in your issue of July 27. It takes a great deal of strength of mind to close down what one has built through years of care and labour. You are the best judge. As you say, it is too much for one man even that man is an institution. We shall miss the journal.
My good wishes for your health and the well-being of your other causes.
Yours sincerely,
(Indira Gandhi)"
There would be no mention if there were an offer of rupees five lakh, as Nath claims. In the previous chapter, Nath claims that Indira Gandhi used to call Shankar uncle. There is no sign of such affection or intimacy in the above letter, which is just a semi-formal letter where she merely stated that she would miss the journal and wished Shankar good health.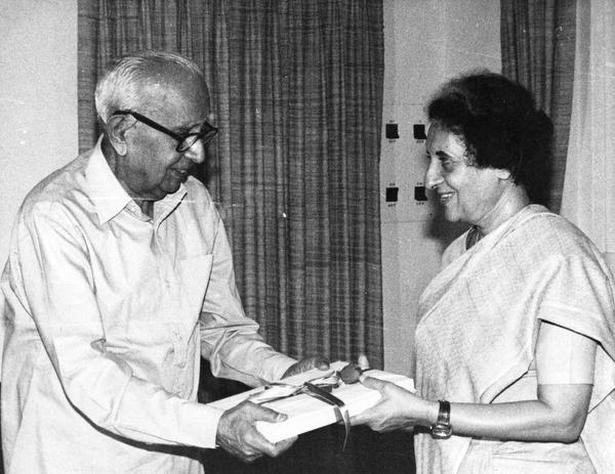 Conclusion
Shankar himself never revealed the reasons for closure to anyone that I am aware of. My take is that Shankar did not openly attribute the closure of Shankar's Weekly to Emergency to avoid embarrassment to Indira for whose father he had high regard. He preferred to call it quits without any controversy. But, his farewell letter quoted above gives us a glimpse of his thinking. For my father and me, and many others like us in the years immediately following the Emergency, the closure was the result of the Emergency. The Emergency was declared, and the Weekly wound up soon after that. No further proof was required. Q.E.D.
Shankar and Deshmukh
Given my background in central banking, I cannot but say a few words linking C.D. Deshmukh, Reserve Bank of India's first Indian Governor, later third Finance Minister, and Shankar.
Cartoon on Deshmukh
Let me quote Deshmukh himself from his autobiography (The Course of My Life, 1974):
"One of the unkindest cuts came from Shankar of Shankar's Weekly. We had been very good friends. Indeed one day in the early 'fifties Shankar had said to me: 'There are two people about whom I shall not publish unkind cartoons. One is Jawaharlal, and the other is you.' I had glowed with pleasure and sighed with relief, for a good cartoonist can do a lot to damage one's image, and Shankar was a phenomenally clever cartoonist. Shankar invited me to inaugurate or preside over or at least distribute prizes at his exhibitions, an honour and privilege I enjoyed. I had also encouraged him in seeking a loan on easy terms from the Government for the construction of a building….
I was therefore unpleasantly surprised to find in the issue of Shankar's Weekly following the day of my resignation from the office of the Finance Minister in July 1956 a virulent and spiteful article not only criticising me for being in the wrong (which was thoroughly unexceptionable), but also ridiculing my personal mannerism, like saying things with a smile. This I thought was in bad taste, even for a cartoonist. I, however, took no particular notice then, but once when I met Shankar accidentally later, I referred to this article casually. Shankar mumbled something about a journalist's professional duty."

Deshmukh, The Course of My Life, 1974.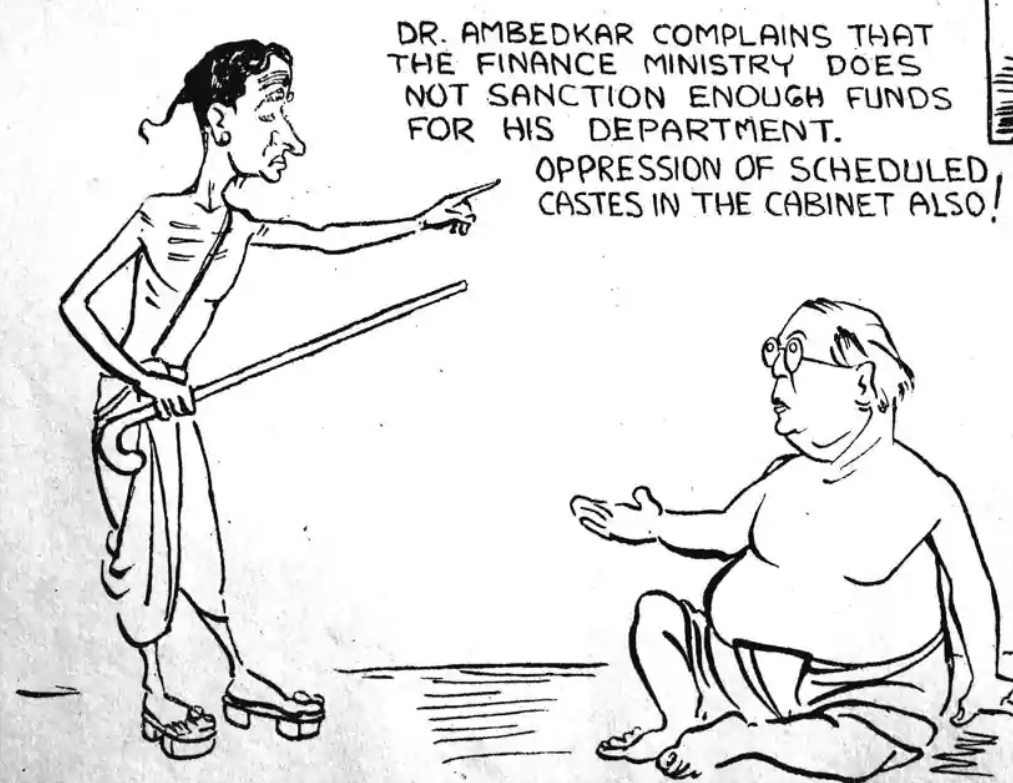 Deshmukh expels Shankar's daughter
After that, Deshmukh mentions an incident involving Shankar's third daughter:
"During my tenure as Vice-Chancellor of Delhi University many years later, it so happened that I also had to discharge my professional duty relating to an incident in Miranda House in which I had to take some disciplinary action against Shankar's daughter. Shankar telephoned me and sounded indignant, but we have remained friends."
According to Nath (2021), the university expelled Shankar's third daughter from the college hostel for indiscipline. Was Deshmukh unfair in the process? Was he trying to get even with Shankar? Neither Deshmukh nor Nath went into the details. She later went abroad for higher education, and now lives in France with her Chilean husband, Carlos.
Shankar and banking
In my view, Shankar did not draw as many or as biting a cartoon on banks and banking as Laxman did. This probably had to do with Laxman's base in Bombay while Shankar was in Delhi. But, I liked in particular two cartoons, one on nationalisation and the other on counterfeit notes: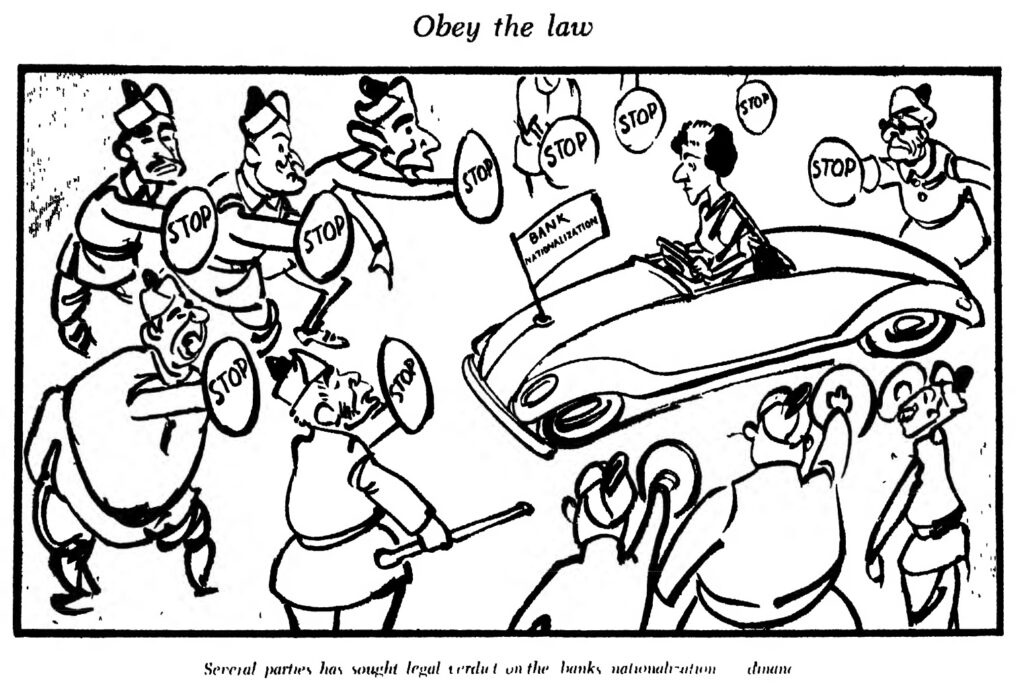 The following is an exciting cartoon whose creator I could not decipher. It is definitely not by Shankar. One can see here how counterfeiters try to legitimise their activity: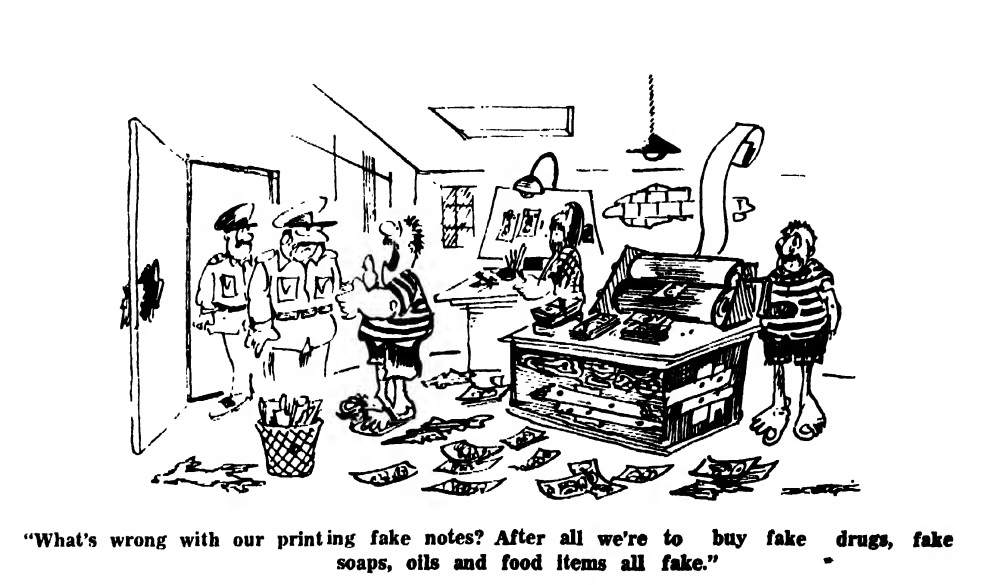 Shankar and Children
Apart from the pool of cartoonists Shankar nurtured, his lasting legacy is his work for children. This work earned him the Order of the Smile, an award by Polish children to adults distinguished in their love, care and aid for children. Shankar is one of two Indians to receive the Order. The other was Mother Teresa.
The first was a dolls museum. Dolls presented by the Hungarian Ambassador led to the beginning of the museum. This was added to by contributions from other embassies and what Shankar and 'Chechi' collected during their foreign tours. The second is the Children's Book Trust. Both are housed in Nehru House, built one year after Nehru passed away, on Bahadurshah Zafar Marg, the Fleet Street of India.
A third one, the International Children's Painting Competition, which drew hundreds of children worldwide, died a slow death about a decade after Shankar passed away.
The Shankar Gharana
In North Indian music, the lasting legacy of a musician is the wealth of disciples they have nurtured and the Gharana they developed. Thus the success of Kirana Gharana of Ustad Abdul Karim Khan, and the Maihar Gharana under Ustad Allauddin Khan, among others. If there is an equivalent in art and cartooning, it was Shankar and his wealth of disciples or those who grew on their own under the shade of his banyan tree like shelter. Let us see what some of them had to say on Shankar.
Kutty on Shankar
Kutty became Shankar's protégé on the recommendation of V.P. Menon, a distant uncle, who was a constitutional adviser to three Viceroys. Kutty said of Shankar (as told to Khanduri, 2014):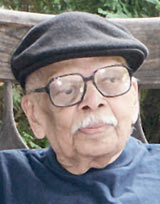 "I started working with Shankar, and whatever cartoon he approved, I started sending to the National Herald in Lucknow. From then on, I became Shankar's devotee until he died. My relationship with Shankar was like the traditional guru shishya parampara of old times: I became a part of his household. He took me almost everywhere he went. He entrusted all sorts of work to me; I was his shadow, literally. When people met me the first question used to be, "How is Shankar?" All the politicians and journalists treated me as a godson of Shankar. I was loyal to him like an Alsatian dog."
"Many people believed my cartoon ideas were actually his! Once one cabinet minister phoned Shankar and congratulated him on a cartoon of mine! When I started my apprenticeship with Shankar, every morning I would go to his office. I would sit near him and draw ten or twelve ideas. He would pick two or three and then I would draw and show him. He would say, "No, not like this." Sometimes he would get very angry. My ideas were good, but I was poor in anatomy and technical things. Until his death, Shankar would keep telling
me, "Improve your drawing. Improve your drawing."
"After I became a Bengali cartoonist everybody [in Delhi] forgot me. I did not mind it. I enjoyed full freedom where I was." Kutty was following the advice of Shankar, who once told him: "It is better to be the head of an ass rather than the tail of an elephant."
Abu on Shankar
I had occasion to meet two of Shankar's protégés. These were Abu Abraham and O.V. Vijayan. Abu had a house near ours in Trivandrum and dropped by occasionally when he was visiting the city, where he also settled down in his later years. He has this to say on Shankar: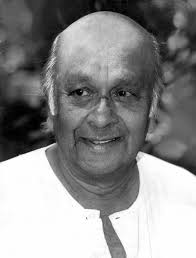 "Among the migrant cartoonists, Shankar was a pioneer. When he started to draw cartoons in the early thirties, he was a clerk in Bombay in a shipping company. His work came to the attention of Pothan Joseph, who was then the editor of the Hindustan Times and had already become famous as a witty and sharp writer. The two Malayalis worked in tandem. Pothan not only gave all the encouragement to the young cartoonist, but he also supplied ideas."
"Shankar's best work was in the years immediately preceding Indian independence and the decade or two following it. … [Shankar's Weekly] became an instant success because of Shankar's immense popularity in political circles and with the English-reading public. The cartoons were widely reproduced in daily newspapers in English and Indian languages. It was natural that Shankar's ow drawings dominated the magazine, but it also attracted several other cartoonists, most of whom were from Kerala."
"Shankar was well and truly settled in Delhi, and he was a national institution during his life in the capital. He seldom visited Kerala, but he retained his Malayaliness throughout. With his prodigious output and through the pages of his weekly, he has contributed more to the art and the democratic temper of Indian politics than anyone else."

Abu Abraham, 1995.
Vijayan on Shankar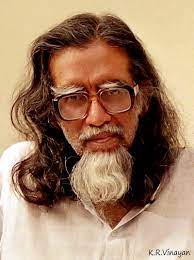 I once met O.V. Vijayan at his Satya Marg residence, with friends, one of whom had to deliver a letter to him. Vijayan waxed eloquent on cartooning and his days with Shankar. He confessed that most of what he drew were not cartoons, but political comments/statements (something to that effect, the exact words now escape me), whatever that meant. Shankar never liked Vijayan's cerebral style of cartooning. But, Shankar's greatness lies in his having nurtured Vijayan over the years and allowed him to grow to beat his independent path. The same also went for Rajinder Puri, who briefly drew for Shankar's Weekly.
O.V. Vijayan had this to say on Shankar:
"I cannot say that I learnt cartooning from Shankar; in fact, in style and concepts, I had rejected Shankar. He watched me with amused concern, but realised like a true master that both tradition and rejection were inherent in the dialectic of growth. And he let me grow without hindrance until I flew out of his nest, a fledgling in pursuit of my destiny."
"I was disturbed by Shankar's advice, Don't hit hard. These are men to be pitied. Laugh generously."
"I had a different perception of the political reality and could hear the shrill new cacophony of India over her glorious anthem … Through the worsening rot, Shankar kept his faith. The grosser the country became, the gentler were his responses … The emergency found Shankar not angry, but sad."
Thankam Shankara Pillai
An extended essay on Shankar would be incomplete without writing on Thankam Shankar Pillai, or "Chechi" as my father called her. She always went out of the way to make me feel at home during my visits. Sitting on the sofa facing Shankar, she would often bend over from behind whispering into my ears explaining what Shankar was telling me or elaborating on that.
Occasionally, 'Chechi' would ask me who was visiting from Kerala. Karunakaran, former Chief Minister, and a couple of other leaders had called on Shankar in my presence. Sometimes there would be people neither knew. As Chechi explained: "After they leave, he will ask me who had come."
She would also narrate stories. About Nehru, who would drop by without notice, along with one or two others, to savour Kerala food. She would talk about the houses they stayed in, in Bombay (Peddar Road and Chowpatty) and Delhi (the two-room flat in Old Delhi, Gole Market, and Babar Lane before coming to No 9, Purana Qila Road. Their travels abroad. Surviving abroad as a vegetarian. Their friends. Events over the years. Dignitaries who frequented. The stories are endless. Despite being in Delhi and Bombay for almost six decades, she never lost her inherent Malayali cultural moorings. Once or twice, she reminded me to renew a subscription to a relatively unknown Malayalam publication. And there never was a more gracious host as 'Chechi.'
The last time I met 'Chechi', we discussed my father's health. He had cancer. I thought it was after my father died. But, Nath's biography of Shankar puts her death one year earlier, leaving me confused. She passed away soon after that meeting. I believe this was not revealed to Shankar who was bedridden.
Last days
"We must laugh," Shankar told Lee Siegel, "or we must die." (Siegel, 1987). Shankar rarely laughed even when I first met him in 1981, when he was in his late 70s. But he was full of humour and sarcasm, often self-deprecating. This was a characteristic inherent to most Malayalis as Abu Abraham wrote. This is mainly owed to the tradition of Ottan Thullal, Chakyar Koothu, and Padayani, all peppered with social criticism and famous in the Central Travancore of the day that Shankar came from.
When Shankar passed away in December 1989, I was inspecting some bank in a remote village about an hour's travel from Tuticorin. Leaving for Delhi during inspections was not possible. Even if I were in Madras or Delhi, attending the funeral would have been difficult, just as Shankar himself couldn't bring himself to attend Nehru's funeral.
Shankar's Legacy
I have been to a cartoon museum in Basel, Switzerland. Sadly, I am yet to visit the only cartoon museum in India, in memory of Shankar, in his home town of Kayamkulam. For that matter, a visit to the Doll's Museum also is four decades late. Maybe I will soon.
There are three known biographies of Shankar. Two are short, one by Alka Shankar and the other in Malayalam, largely based on Alka's. The third, the most elaborate one so far, was by Sudheer Nath, a cartoonist. My short critical review is given as an annexe.
A genuinely insightful biography of Shankar written keeping in view the context of his times awaits.
Acknowledgement
I am grateful to Ms Yamuna Shankar of Children's Book Trust for guiding me to Sudheer Nath's biography in Malayalam on Shankar. The search for it led me to other writings on Shankar and cartooning in Kerala and India.
References
Abu Abraham, Why does Kerala produce so many cartoonists? India International Centre, 1995.
C.D. Deshmukh, The Course of My Life, Orient Longman, 1974.
G. Hari, Cartoonist Shankar (Malayalam), Kerala Bhasha Institute, 2012.
Ritu Gairola Khanduri, Caricaturing Culture in India – Cartoons and History in the Modern World, Cambridge University Press, 2014.
Alka Shankar, Cartoonist Shankar, Children's Book Trust, 1984.
Lee Siegel, Laughing Matters – Comic Traditions in India, University of Chicago Press, 1987.
Sudheer Nath, Cartoonist Shankar: Kala, Kaalam, Jeevitham (Malayalam), Kerala Lalithakala Akademi, Thrissur, 2021.
Sukumar, Keralattinte Cartoon Charitram (Malayalam), Kerala Bhasha Institute, 2016.
Annexe
Sudheer Nath's biography of Shankar
Sudheer Nath's Cartoonist Shankar: Kala, Kalam, Jeevitham (Art, Times, Life), tastefully brought out by the Kerala Lalithakala Akademi (Thrissur, 2021), is the most comprehensive biography of Shankar so far. Amply illustrated with photographs and cartoons, it digs into numerous anecdotes from fellow cartoonists and other contemporaries, friends and relatives. With hardly any reliable previous comprehensive work to rely on (he does borrow from G. Hari a lot), Nath has made a significant original contribution. As a cartoonist himself, he brings in a completely refreshing perspective.
Some issues
At the same time, I differ with Nath on a few issues. The first relates to certain sweeping conclusions he has drawn. This is perhaps due to a lack of familiarity with the day's circumstances. As someone who knew certain other journalists of the day in Delhi, and there were quite a few Malayalis, I knew that Shankar was the subject of immense jealousy, including from fellow Malayalis. The first reason was his proximity to Nehru and the Gandhi family, the second his allotment of a bungalow at a prime location, and third the allotment of prime location for his Children's Book Trust and Doll's Museum. One could also add his status as a pioneering cartoonist. That probably explains Nath's belief, presumably based on what others said, that Shankar was feudal in his approach.
Inaccuracies
A second issue relates to certain factual inaccuracies. First, Shankar studied at the Government High School, Mavelikkara, not at the Anglo Vernacular school that became Bishop Hodges School. Second, elder son Sukumaran is at times mentioned as the second son. Third, Nath quotes Shankar saying in 1975 that he was nearing 70 and that he was already 66. In fact, in 1975, Shankar was 73. Fourth is wrong references to places such as Odeon as Orion. Fifth is quoting Nehru as having said, "Don't spare me, Shankar," both at Shankar's Weekly's inauguration and on Nehru's deathbed. I think only the first is correct.
A fifth example is the allegedly deliberate omission of the name of Sukumaran, Shankar's elder son, from Shankar's obituary. If I remember correctly, the fact was that Sukumaran had predeceased Shankar. Finally, Sudheernath writes that Shankar met Nehru in Geneva during his visit to Europe. Nehru was there apparently in connection with his wife, Kamala's illness. The fact is that Kamala Nehru, who was suffering from tuberculosis, had already passed away in 1936 in Lausanne.
Lack of sources
A third issue relates to unsubstantiated claims or sources not cited when required. For instance, Nath writes that Indira Gandhi used to take his opinion on many topics, including political ones. A second example without a source is the offer of rupees five lakh from Indira Gandhi to continue running the weekly. A third is a statement attributed to Shankar criticising those insulting the 'family' of a former Prime Minister.
Contradictions
A fourth issue relates to contradictions. For instance, Nath says that Shankar was never as close to Indira as Nehru. At the same time, he claims that Indira consulted Shankar almost every other day on various issues, including political ones. Nehru was never known to have done that, even according to Nath or any other writer. The fact is that both Nehru and Shankar had their own set of advisers.
Shankar's Weekly and the Emergency
Indira did not reproach
One penultimate issue, relating to the next, Sudheernath writes that Indira Gandhi never reproached Shankar or anybody else for their critical cartoons during the Emergency. I have stated this earlier, but worth repeating, is where are the grounds for such reproach when the censors have ensured that no such offending cartoon would come in print?
Why Shankar's Weekly was closed
One final issue is Nath's inability, despite his extensive research, to decide once and for all whether the Emergency was the cause for the closure of Shankar's Weekly. While he goes to great lengths to state that the Emergency was not the reason for winding up, he also provides contrary solid evidence which cannot be easily ignored. The fact is that Shankar told one of his assistants never to send his cartoons to the censors. The decision to wind up Shankar's Weekly was taken soon after the Emergency was announced. The last issue came out on 31 August 1975, barely six weeks after the emergency.
Role of the censors
In the process, he trips up poorly to the extent of saying that Mrs Gandhi never reproached Shankar or any other cartoonist for their critical cartoons during the Emergency. If Indira did not show dissatisfaction, the reason was that official censors did not allow any that could even remotely offend the powers, to be published. Just one issue of the Illustrated Weekly of India, then edited by Khushwant Singh (who had a different stand during the Emergency), which reproduced numerous cartoons, some very innocuous, that was barred from publication, is evidence of official censoring, not just dissatisfaction, with censoring. There were many by Laxman and Abraham. One such banned cartoon was that of a net attached to the aircraft ladder to receive a visiting Gerald Ford, then American President, who had a reputation for falling too often. It was banned just in case it offended Ford and affected Indo-American relations!
Nath links Punnen Abraham/Joseph (a nephew of Pothen Joseph) who was managing Shankar's Weekly and died in 1972 to the closure of the Weekly three years later in 1975.
Contributors and advertisers
Nath argues that as Shankar was not as close to Indira as to Nehru, advertisement revenues had dried up. At first, he insinuates that Nehru was getting advertisements for Shankar. Secondly, he contradicts statements elsewhere that Indira consulted Shankar almost every day, which was not the case with Nehru. Shankar's Weekly had 48 pages in 1974 against only 24 in 1969, two years for which I have copies.
A random look at a 1974 issue shows that the private sector contributed as much if not more to advertisements than the public sector. And the public sector contributions were spread across different states. If this dried up suddenly, after 1974, what else to blame but the Emergency?
I have elaborated on this in my main post on Shankar.