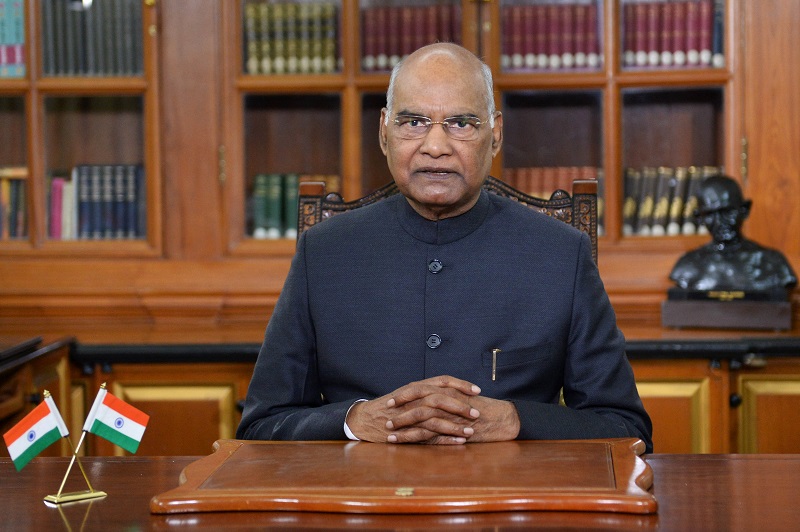 The attention of the political media is currently focused on the five states going to the polls during February/March. I am jumping ahead to speculate who will be the 15th President of India to succeed Ramnath Kovind whose term will expire on 24 July 2022. As we will see, the outcome of the five state elections will play a critical role in who the next President will be.
Those who are/were in high positions fall into two broad categories. At one end are those who are/were a decoration to their posts and continue to be so in public memory. At the other end, the designations are a decoration around their neck. Some such indicator would be required to remember who they were. In between are those whose positions rub off on them over time, and they grow to become distinguished personalities. Presidents of India are no exception. On the brighter side, barring a few, the rest have done the nation proud.
Contents
President Kovind
I confess to not having heard of President Kovind before his nomination. A distinguished and low profile former member of the Bar, President Kovind grew high in my estimation when he quoted Justice Felix Frankfurter of the US Supreme Court to tell an august gathering of distinguished judges on Constitution Day, 26 November 2021:
Courts are not representative bodies. They are not designed to be a good reflex of a democratic society. Their judgment is best informed, and therefore most dependable, within narrow limits. Their essential quality is detachment, founded on independence. History teaches that the independence of the judiciary is jeopardized when courts become embroiled in the passions of the day and assume primary responsibility in choosing between competing political, economic and social pressures.

Justice Felix Frankfurter of the US Supreme Court in Eugene Dennis and ors. vs. United States, June 4, 1951.
Timely and sound advice. But, the speech, unfortunately, did not get as much press as it should have.
The next President
So, will the next President be another political lightweight like Kovind? Or will the BJP pull a rabbit out of the hat as they did with Abdul Kalam in 2002? Will the emphasis be on a prominent candidate from one of the minority communities? Will they alternate with someone from the South, North East, or farther North? I speculate on these and related questions apart from briefly narrating the election process.
Election of President
Those familiar with the process of election of President, a bit complicated, may please jump to the next section. The process, administered by the Election Commission of India, is governed by Articles 55 and 56 of the Constitution, and by the Presidential and Vice-Presidential Act, 1952. Let me try and simplify it in ten bullet points as follows:
Eligibility
a. A person who is a citizen of India, has completed 35 years of age, is eligible to be a member of the Lok Sabha, and holds no office of profit, is eligible to become President of India.
c. Under the Presidential and Vice-Presidential Rules, 1974, each nomination requires 50 electors each as proposers and seconders.
Electoral college
b. An electoral college will elect the President by secret ballot through proportional representation by means of a single transferable vote. Under transferable vote, each elector should indicate their first preference and may indicate second, third, etc., preference up to the number of candidates.
d. The underlying principle is uniformity (to the extent practicable) in the scale of representation of the different States.
e. Such uniformity will be among the States inter se, and between the States as a whole and the Union.
f. The electoral college consists of elected members of both Houses of Parliament, and elected members of the legislatures of States (States includes Delhi and Puducherri).
Value of votes
g. The number of votes for each elected MLA of a State will be the number of thousands in the State's population divided by the number of elected MLAs. If the remainder is 500 or more, one more vote will be added. The population will be as per the 1971 census.
h. The number of votes for each elected MP will be the total votes of all elected MLAs divided by the number of elected MPs. Fractions of more than one-half will be counted as one.
Counting
i. In the first round of counting, the total value of the first preference votes of each candidate is calculated. The total value of votes secured by all candidates divided by two plus one is the quota that a candidate has to secure to be declared elected.
j. If no candidate has reached the quota after the first round of counting, the last candidate is eliminated. The value of his votes is added to the candidate appearing as second preference in each of the eliminated candidates' votes. The process will continue and the last person will be declared elected even if he has not reached the quota.
Past trends for President
The past choices for President are an indicator of what to expect and what not to expect. Not counting the short-term and stop-gap Presidents, the following trends can be noticed from the Presidents so far:
Consecutive terms
1. Only one President, "Babu" Rajendra Prasad, had a second tenure. Prime Minister Jawaharlal Nehru, with whom Prasad had a frayed relationship, did not want him even as the first President. Durga Das, who was a journalist with The Statesman and Editor-in-Chief of Hindustan Times, detailed this in his monumental India: From Curzon to Nehru and After. Nehru preferred C. Rajagopalachari as the first President. At the end of Prasad's first term, Nehru worked towards elevating Radhakrishnan, then Vice President, citing the need for a President from South India. But, Azad and Pant put their weight behind a second term for Prasad. Though Nehru sought an understanding that Prasad will quit halfway into his second term, the latter was noncommittal. It did not eventually happen.
The President-PM relationship has never been lower since then. It was the fallout of many past incidents, jealousies, and misunderstandings. There was a lack of clarity on the extent of Presidential powers. Prasad kept presuming powers and Nehru kept denying them. To start with, Nehru did not want Prasad even as President of the Constituent Assembly. But, Prasad was no easy pushover. He was an associate of Gandhi from his Champaran Satyagraha days. Perhaps most importantly, Prasad ignored Nehru's suggestion not to attend Sardar Patel's funeral or the ceremonies connected with the reconstruction of the Somnath temple.
Prasad's foreign visits
During Nehru's entire tenures as Prime Minister, he himself was the Minister for External Affairs. He told Prasad that he was briefing various Heads of State appropriately and that there was no need for the President to also do it. In reality, Nehru probably felt that "Prasad did not project the image of a modern secular India" (Das, p. 339), the President's foreign visits were restricted. Nepal in 1955 was the only visit in the first term. In the second term came Japan in 1958, a few South-East Asian countries, including Vietnam, and Sri Lanka. In Hanoi, Ho Chi Minh warmly welcomed Prasad. It was Holi. He surprised Prasad by smearing him with gulal, embraced him, and said, "We do not differentiate; we follow India." Prasad was not allowed to accept return invitations from President Eisenhower or Queen Elizabeth both of whom had stayed with him at the Rashtrapati Bhavan.
Prasad's death
Das also mentions Nehru's unholy arrangements for Prasad's funeral, when the President was still in hospital, ensuring that the cremation site would be as far away from Rajghat as possible. This was what Das wrote:
Nehru's mind was exercised about where Prasad was to be cremated. He did not want the ceremony to be performed next to Rajghat, Gandhi's cremation ground, but he feared that M.P.s from Bihar, Prasad's home state, would insist that this site be chosen. He accordingly asked Home Minister Shastri to find a place as far from Rajghat as possible. This was a very delicate mission and had to be performed secretly. Shastri, accompanied by the Chief Commissioner of Delhi, Bhagwan Sahay, was driven by the Deputy Commissioner, Sushital Banerji, along the banks of Jumna, and chose a spot a couple of furlongs from Rajghat for the cremation.

Durga Das, India: From Curzon to Nehru and After, page 338.
The preparations were premature. Prasad recovered soon and laid down office in the normal course. He returned to Bihar and lived in Patna in a cottage next to the Sadaqat Ashram on the banks of the Ganges. He passed away on 28 February 1963, his wife predeceasing him by a few months. Prasad left incomplete a book on his presidentship years.
Funeral
President Radhakrishnan attended the funeral though Nehru suggested that he need not. Nehru also did not change his plans of touring Rajasthan to collect funds for the Prime Ministers Relief Fund even though Radhakrishnan had asked him to join him.
As it turned out, Nehru passed away in May of the following year. He was cremated in the plot adjacent to Rajghat, which was named Shantivan.
As is well known, Shastri passed away, as Prime Minister, in Tashkent in 1966. He was cremated at the same spot that he chose for Prasad. It was named Vijayghat.
Lessons
The foregoing narrative is significant for two reasons. First, going forward the Presidential candidate would be a notch or two below the Prime Minister in stature. This was probably broken only by Shankar Dayal Sharma when P.V. Narasimha Rao was Prime Minister, and Pranab Mukherjee when Manmohan Singh was Prime Minister. Secondly, Prasad's is likely to remain the only instance of a second consecutive term, at least in the foreseeable future.
I will post separately on the President-PM relationship then and how it affected subsequent equations.
Digression: Nehru and Das
The above narrative needs to be tempered with the revelation of M.O. Mathai (Nehru's private secretary, not particularly reliable) that "one journalist who got on Nehru's nerves was Durga Das." Das apparently tried to get elected to the Constituent Assembly. But, Nehru "scored his name out." He suspected that Das was "connected with the intelligence set-up of the Home Department" during his Associated Press of India days. After Das wrote what Mathai says were nasty pieces on Nehru and Indira, Nehru called for Das and gave him a dressing down: "You are the meanest man I have met and the lowest form of human existence." Later, at Nehru's instance, Mathai complained to G.D. Birla, who owned Hindustan Times. Birla claimed that he rarely interfered with editorial freedom. But, Srikrishna Mulgaokar soon replaced Das. (Mathai, Reminiscences of the Nehru Age, 1978, pp. 101-102). In Das's defence, his points are mostly verifiable.
Aside: Reading Durga Das's book in particular, while in my +2, and following up with Frank Moraes's Witness to an Era, apart from Collins and Lapierre (Freedom at Midnight), and Kuldip Nayar's Between the Lines and Judgement, made me want to become a journalist. Alas, that was not to be!
North vs. South
2. The Presidents alternated between North and South until K.R. Narayanan. The trend was broken when APJ Abdul Kalam, from Tamil Nadu, succeeded Narayanan, who was from Kerala. After Kalam, the Presidents were from the West (Pratibha Patil), East (Pranab Mukherjee), and now Ramnath Kovind, the first President from Uttar Pradesh (not counting Dr Zakir Husain who was more Delhi-based).
I am, of course, simplifying by including Fakhruddin Ali Ahmed, who was from Assam, among the North-Presidents. He was born in Delhi to parents of Assam origin. The Ahom kings brought one of his forefathers from Delhi to Assam to communicate with the Mughals in Persian. Similarly, Dr Zakir Husain, born in Hyderabad, is counted as from the North where his family roots were.
Hindu-Minority alternation
3. For three decades, starting with Dr S. Radhakrishnan, and ending with R. Venkataraman, there was a Hindu-Minority alternation in place: Dr S. Radhakrishnan, Dr Zakir Husain, V.V. Giri, Fakhrudin Ali Ahmed, Neelam Sanjiva Reddy, Zail Singh, R. Venkataraman. Thereafter, Shankar Dayal Sharma, then Vice President, became President. K.R. Narayanan, a Dalit, and Abdul Kalam followed. Thereafter came two Presidents from previously unrepresented States, Pratibha Patil and Pranab Mukherjee.
Mother tongue
4. After Hindi (at four or five), Telugu was the mother tongue of a maximum number of Presidents. Three Presidents, Dr S. Radhakrishnan, V.V. Giri, and Neelam Sanjiva Reddy, were Telugu speaking. But, Radhakrishnan was born in Tiruttani, now in Tamil Nadu. He and Sanjiva Reddy settled down in then Madras and Bangalore respectively after laying down office as President, showing at another level how meaningless these differentiations are. Radhakrishnan studied and taught in Madras, among other places. His house, Girija, continues to be a landmark on the erstwhile Edward-Elliots Road in Chennai, which now bears his name.
Youngest
5. The youngest to assume office was Neelam Sanjiva Reddy, at the age of 64. Reddy would have been President much earlier, at 56, if he had not been defeated by Indira Gandhi's candidate, V.V. Giri, in the 'conscience vote' election of 1969.
Oldest
6. The oldest to assume office was K.R. Narayanan at 76-8-28 (years-months-days). Pranab Mukherjee (76-7-14) and R. Venkataraman (76-6-21) came a close second and third.
Elevated Vice Presidents
7. Only five Presidents were Vice Presidents earlier (ignoring those like Justice M. Hidayatullah and B.D. Jatti, who were Acting President for short periods). These were Dr S. Radhakrishnan, Zakir Hussain, V.V. Giri, R. Venkataraman, Shankar Dayal Sharma, and K.R. Narayanan. The last Vice President to assume office as President was Narayanan in 1997.
Unrepresented States/UTs
8. The States/UTs not yet to have a President are the following: The North-Eastern States except Assam, Chhattisgarh, Goa, Gujarat, Haryana, Himachal Pradesh, Jharkhand, Odisha, Rajasthan, Telangana (the Telugu speaking Presidents were from present Andhra Pradesh/Tamil Nadu), Uttarakhand, and the Union Territories except Delhi (counting Dr Zakir Husain as from here).
BJP criteria for President
PM Narendra Modi will of course take the final call. But, it would not be dictated by any whim but cold and calculated political reasoning. He would consult others in his party, and also other parties if the NDA does not have enough numbers. The scenario would depend on whether BJP and its current allies can muster enough votes in the electoral college on their own.
Going by past political appointments, the PM's choice would be based on multiple criteria to serve multiple aims. Most such decisions have targeted more than two birds with a stone. These calculations could involve the following criteria (or non-criteria) for inclusion or exclusion:
Profile
1. The candidate would be quiet and non-controversial. He/she should preferably be of a lower political profile than the PM and other prominent ministers. Hasn't this been the case all along, barring Rajendra Prasad and perhaps Pranab Mukherjee?
2. An all-India stature will definitely not be an essential criterion. That would be a tough criterion to meet in any case and would narrow the options. This too has been the case all along but has become less and less important over the years.
Surprise
3. There could be a surprise element. Someone not really well-known, as in the case of President Kovind. Or someone unexpected and disarming to the Opposition, as in the case of Abdul Kalam. One could call it a trump card. In the event of BJP or NDA not having enough numbers to go it alone, this would be difficult for the opposition to say no to.
Political messaging
4. Should serve a political messaging. This could mean a Dalit like President Kovind, a Muslim like President Kalam, a State where the BJP is planning to make further inroads or a combination of these and other factors. BJP might consciously ignore or disavow the alternating precedent. At the same time, the last Muslim to have been President was Abdul Kalam who laid down office in 2007. The only Sikh President, Zail Singh, relinquished office even two decades earlier. And the North East has not had a President since Fakhruddin Ali Ahmed died in office, the second and last one to do so, nearly five decades back, in 1977.
Reward for loyalty
5. Choice of Governors and Presidents have so far, under NDA, gone mostly to those from their ranks who did not have much scope to make it through electoral politics. In other words, it could be a reward for old political loyalties, maybe even from the RSS, if they have not held a position in government so far. This might rule out present and former Chief Ministers.
Unrepresented state
6. An unrepresented State, just as President Kovind was the first from Uttar Pradesh (if one considers Dr Zakir Husain as from Delhi), which gave the maximum number of Prime Ministers.
7. BJP is unlikely to go back to the North-South dichotomy, which anyway ended with K.R. Narayanan. Thus, a Southern State is unlikely especially as Karnataka is the only major unrepresented State from where BJP can source a candidate (B.S. Yediyurappa anyone?)
8. The BJP could opt for a Western State like Gujarat, an Eastern so far unrepresented State like Odisha, Jharkhand, or Chhattisgarh, the far North like Jammu and Kashmir, or further East like Manipur.
Public intellectual?
9. Will BJP go for a public intellectual like Nehru found in Dr S. Radhakrishnan, or BJP itself in Abdul Kalam? I think it is unlikely. Political messaging or mileage from any and every move seems to be the strategy.
Age range
10. The age at the time of assuming office is most likely to be between the mid-60s and mid-70s. In other words, those below 65 might have to wait out, and those above 75 could be ruled out.
Elevate the Vice President?
11. Will the BJP elevate the Vice President? Not unlikely, but Venkaiah Naidu may not make it for the reasons stated below.
Why this time is different
In 2017, Ramnath Kovind had smooth sailing with around 65% of votes in the electoral college. This time, NDA has more seats in the Lok Sabha and Rajya Sabha. But, the position in the States is different. Shiromani Akali Dal, Shiv Sena, and the Telugu Desam Party are no longer with it. Last time, NDA mustered friendly support from Biju Janata Dal, YSR Congress, and Telangana Rashtra Samithi. With NDA ruling fewer States, without some earlier allies, and the stand of other parties not clear, it commands slightly less than 50 per cent of votes. That makes the upcoming five state assembly elections critical. If a fall in the electoral college votes from Uttar Pradesh is not compensated by the other four States, the assured votes could fall further. This might encourage the Opposition parties to extract a hard bargain.
Other speculations for President
Tamil Nadu?
As I write this on a Sunday, I find that Coomi Kapoor has, in today's Indian Express/Financial Express, put her money on a President from Tamil Nadu. Quoting Tamil social media channels, she has mentioned Nirmala Sitharaman, the Finance Minister, and the Governors of Telangana and Manipur, Tamilisai Soundararajan and La. Ganesan respectively. The logic is that in the absence of former allies, the Akali Dal and Shiv Sena presumed support of the Dravidian parties for a Tamilian candidate could be tapped to make up for the shortfall.
Nirmala would be just short of 63 and if elected, would become the youngest President breaking Sanjiva Reddy's 64. This is unlikely. She probably has a chance down the road, maybe in 2032. Similarly, La. Ganesan, at 77, has crossed the upper limit. Moreover, the Dravidian parties are unlikely to rally around complete non-entities, even if they are Tamil-speaking.
Tamilisai Soundararajan falls short of requirements on many counts. She will be just 61 in July. Moreover, she is a political lightweight, who was (in my view) kicked upstairs to the Governor's position, to unclog opportunities for other leadership alternatives to emerge in Tamil Nadu. A similar step was taken with a few leaders in Kerala. Above all, though she has been active in BJP for over two decades, she is not from the RSS stable and has family roots in Congress politics.
Gehlot?
The Sunday Guardian put forward the name of Thaawarchand Gehlot, former Union Minister for Social Justice and Empowerment before becoming the current Governor of Karnataka. He is 73, from Madhya Pradesh, and a Dalit. It is unlikely that a Dalit would succeed another. And Madhya Pradesh already had Shankar Dayal Sharma.
Wikipedia
Less serious speculation comes in a Wikipedia page on the subject, suggesting Sharad Pawar (81), Karan Singh (90), or Bhim Singh (80), the Dalit leader from J&K, for President. This seems more like idle and wild speculation, someone's personal wish being presented as a prediction.
Ruled out for President
The following would have been considered in the normal course, but are being ruled out based on criteria I feel that the BJP might follow:
1. M. Venkaiah Naidu
Elevating M. Venkaiah Naidu as the next President would have been a natural choice. He is a former President of BJP. At 73, he is at the right age. His term as Vice President is ending in August. But, three Telugu speaking persons have already been President. That could go against him.
2. Rajnath Singh
At 71, Rajnath Singh has been in electoral politics for long, including as Chief Minister of Uttar Pradesh for about 14 months. Will these go against him?
3. Nitin Gadkari
Like the previous two, Gadkari is also a former Party President and is politically senior to the PM. But, in keeping with the discipline of a cadre party, he has been working under Modi, quietly earning a name as an efficient minister. His elevation could give a boost to the party's chances to come back in Maharashtra, which has already had a President, but not a popular one. Moreover, Gadkari has many admirers even in the Opposition. His nomination could thus swing the marginal votes which will be critical if NDA does not have the requisite numbers.
Gadkari is only 65 and has an outside chance to become the next PM for one term if Modi chooses to lay down office as Prime Minister after turning 75. He could, otherwise, have a shot at the President's office in 2027.
4. Shivraj Singh Chauhan
He is only 62 and has been CM for a long time. Madhya Pradesh already had a President in Shankar Dayal Sharma. Can look for the post in 2027 or even 2032.
5. B. S. Yediyurappa
He is 78 and rules himself out as he had been CM for long in tenures not free from controversy. But for these, like one from Karnataka, an unrepresented state, and the only Southern State where BJP has a strong foothold, he stood a good chance.
This is, of course, an incomplete list of those being ruled out.
My choices for President
Not going into the details of numbers, because I have not worked out the complex numbers, I believe BJP still lacks the numbers to choose a candidate of their own. A lot might depend on the outcome of the upcoming five assembly elections. They might require the support of not just allies but also those leaning towards them such as the Biju Janata Dal in Odisha.
With the foregoing as my inputs, my candidates for the 15th President of India, in order of preference/likelihood, are the following:
1. Arif Mohammed Khan
For: Progress Muslim, articulate, erudite, liberal credentials useful in the wake of an impending Uniform Civil Code. He is 71 years old. He would be acceptable to many non-NDA parties.
Against: He is also from UP like the present incumbent.
Comment: If Arif Mohammed Khan becomes the President, he would be the second former Governor of my State to become President. The first was V.V. Giri, who was also the Governor of two other States, Mysore (now Karnataka) and Uttar Pradesh. Even if he does not become the President, I see him as a strong candidate for Vice President, a counter to Hamid Ansari that the ruling party so greatly despises. If this were to happen, elevation as President would naturally follow in 2027.
2. Ghulam Nabi Azad
For: Muslim and now 73 years old, Azad is from an unrepresented State (now UT) of Jammu and Kashmir. His nomination could fit into the chain of Kashmir-related events starting in 2019. He would be acceptable to the Opposition if NDA does not have the numbers. Of late, his softness towards the BJP, and BJP Government honouring him with a Padma Bhushan, could be seen as preparatory to building the requisite bench strength to widen the Presidential options.
Against: He might be considered only if NDA does not have enough numbers. Despite his stand-off with the current Congress leadership, he could win their support too.
3. Naveen Patnaik
For: From an unrepresented State. A surprise and win-win choice if the NDA does not have the numbers. Patnaik being away from the State might give BJP a chance in Odisha. Patnaik might also agree if he wants a break after being Chief Minister for 22 years. A Presidentship would be a fitting tribute to his standing and to the memory of his father.
Against: Patnaik will be 76 later this year, but three former Presidents were older. Would Patnaik want to become President at all, and give the State to BJP on a platter? On the other hand, he may not be completely averse to the prospect. After all, he became the CM first time with the support of BJP, which magnanimously, and perhaps foolishly, extended the post to him.
4. Raman Singh
Aged 69, Raman Singh is a non-controversial former Chief Minister of Chhattisgarh, one of the unrepresented States. He could remind people of the State that BJP has not forgotten it.
5. Raghubar Das
Aged 67, and a former Chief Minister of Jharkhand, he could be considered for the same reason as Raman Singh.
6. N. Biren Singh
I had planned only on five options. But, decided finally to add a sixth to represent the entire North East, which has not had a President for almost five decades. At 61, Nongthombam Biren Singh, present Chief Minister of Manipur, (presuming he could be spared) could at least become the Vice President, and be in waiting for an elevation in due course.
Conclusion
After re-reading the foregoing, I realize I was not consistent. I am okay with it because, as Emerson said, consistency is the virtue of fools/small minds. I had suggested former Chief Ministers as President though I also presumed having held such positions as a disqualification. That is because I feel that past precedents will not dictate the present BJP's choice. It could even be a name that I neither mentioned nor considered. Or for that matter, even heard of.
For all you know, the party would have prepared different lists of two or three names each, for use under different scenarios, for both President and Vice President, election to which falls due one month after that of the President. But, as is well known, the PM keeps his cards close to his chest. Even his closest aides might not have a clue. When the time comes, BJP will in all probability lead an unexpected card, maybe even a trump card. In the meantime, I hope the foregoing gives enough inputs for idle but informed speculation.
© G. Sreekumar, February 2022 – last updated 8 February 2022